School and extra-curricular insurance
The option to protect your children and have peace of mind in all circumstances, from €1.70 per month.
Why do more than 150,000 policy holders recommend Luko?

Cheaper
From 1,70€ per month whatever the number of children

Comprehensive
Only the guarantees you truly need

Simple
100% online, insured in 2 minutes
Guarantees and claims covered
Discover the list of risks for which your children are covered and customize your coverage according to your needs so you can have peace of mind no matter what they do.
Get insured and customize your cover
Civil liability

Medical expenses

Hospitalization fees

Medical transportation costs

Replacement cost of glasses or braces

Childcare service in the event of a disaster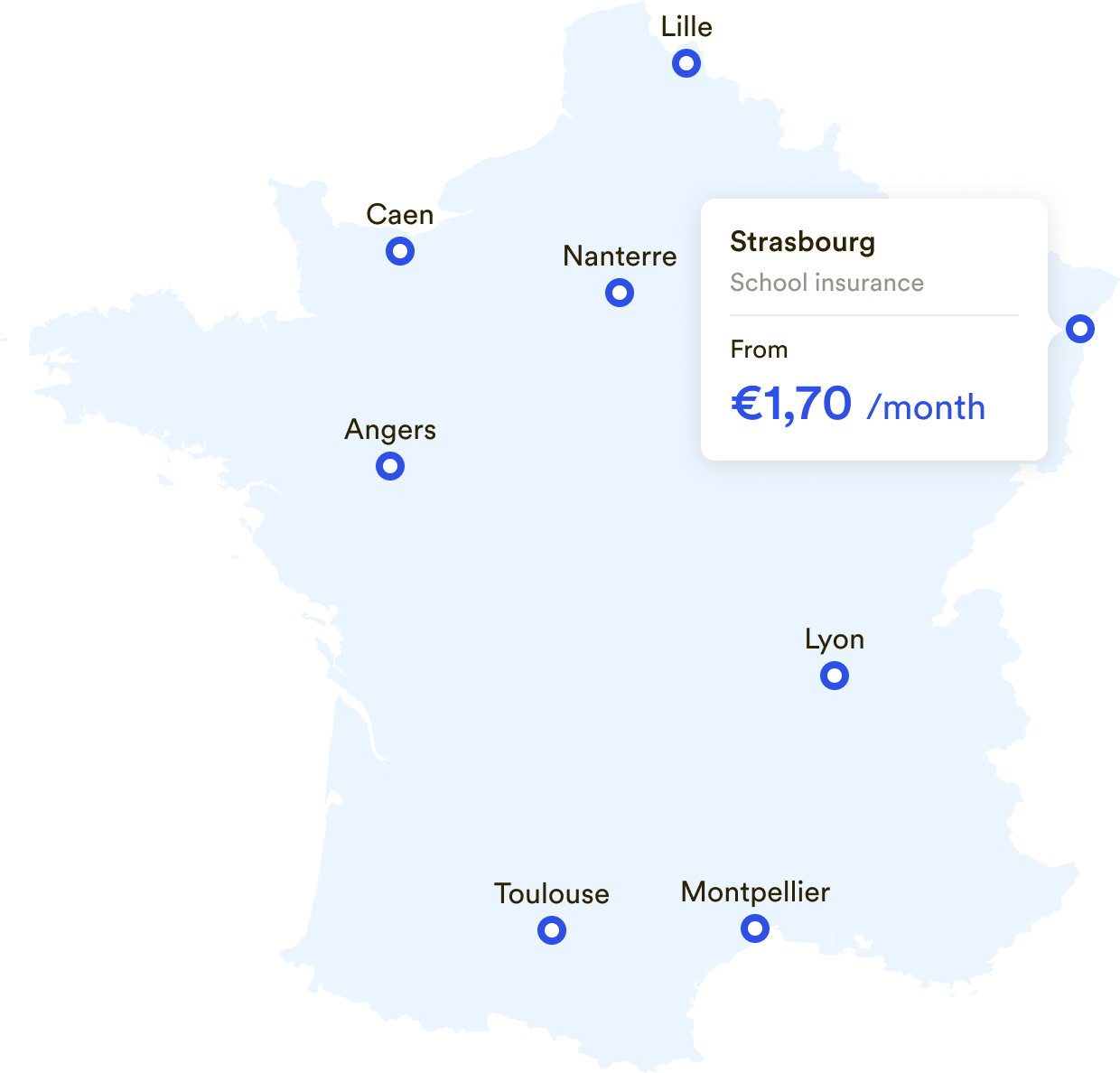 From €1,70 per month
Get a free quote online and find out how much your school insurance will cost, it only takes a few seconds.
Get insured and add the option

The best rated insurance by its 150,000 policyholders
Read our testimonials

"Great service, fast and efficient, a joy! Very quick subscription in less than 5 minutes and a team available in a few minutes to answer our questions. As for the price, I divided my monthly bill by 3."
Célia N.— Owner of an apartment in Ivry-sur-Seine
What does school insurance cover?

School insurance is an option of your home insurance that protects your child if something happens to them at school, during their extracurricular activities or while traveling to and from school or activities. It also covers their liability if they hurt or damage someone else's property.

Is school insurance mandatory?

The school will only require a certificate of civil liability when registering your child. Your child will be able to participate in the compulsory activities provided by the school (such as physical education classes), but school insurance will be required if you wish to enroll your child in all optional activities (canteen, green classes) and in extracurricular activities.

Isn't homeowner's insurance liability enough?

Your home insurance covers your child's liability: this means that you will be covered if your child hurts another child or damages someone else's property. However, he or she will not be covered if he or she injures himself or herself or damages his or her own things through no fault of anyone else (for example, if he or she trips and breaks his or her glasses).

Where can I get school insurance?

At Luko, you can sign up for school insurance in a few clicks directly through your MyLuko personal space or in the app.

How do I get a certificate of school insurance?

At Luko, all of your documents and certificates are available in your MyLuko personal space. Once you've signed up for school insurance, you'll be able to download the certificate directly from your personal space or the app whenever you need it. Not insured with Luko? Most insurers will send you this document by email upon request.
Get insured and add the option